First Time Exhibitor
If you want your cat to participate in cat shows, there is a lot to learn. In brief, here are the steps to follow for showing at Chats du Cap:
STEP 1: Make sure your cat is eligible to enter
The following cats cannot be entered for a cat show:
Declawed cats.
Queens that are obviously pregnant.
Cats that have been shaved or sculpted.
Sick cats.
All cats entered must have a valid vet certificate to proof that the cat's vaccinations are up to date.
If you want to enter a household pet, it must have been sterilized.
If you want to enter a registered cat, the following apply:
The cat must have a cat registration number
The cat must be registered in YOUR name.
STEP 2: Enter before the closing date
Show entries always have a cut-off date for closure. The reasons for this are:
Time is needed to complete the pre-show administration
Printing of catalogues. judges books etc.
If you are a first time exhibitor, it is advisable to contact the club that holds the show well in advance for assistance.
STEP 3: Make sure you have a travel cage and exhibition cage
Cats must be transported to and from the show in an escape-proof travel cage.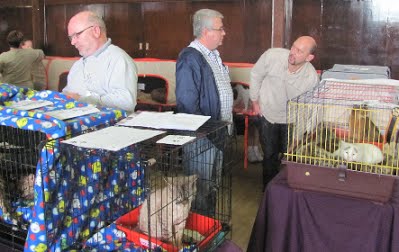 The cage that you use to take your cat to the vet is usually a good travel cage.
The cat must be exhibited on the show table in what is called an "exhibition cage".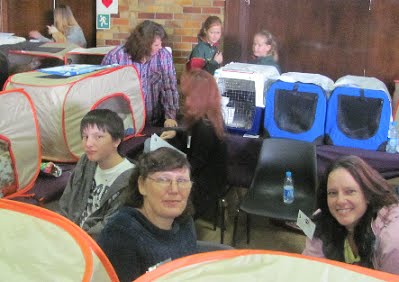 The travel cage may, or may not not be suitable for this purpose.
A suitable Exhibitien cage is one where the public can see your cat.
Contact us via email if you need advice on the suitability of your exhibition cage, or if you want to hire one.
A table space of 50 cm X 50 cm is allocated per cat.
Cats may share cages.

Exhibitors and various types of exhibition cages.
STEP 4: Prepare your cat for the show
Cat shows are in essence beauty competitions.
Usually, cats are bathed before a show. How, depends on the breed.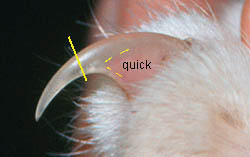 Clip your cat's nails, both front and back.
You can use an ordinary human nail clipper.
Let your cat relax on your lap.
Press on the toe pad so that sharp part of claw sticks out.
Clip vertical : not from top - it will splinter the nail.
Clip only the sharp end : do not clip into the "pink part", as this will make the nail bleed.
Long-haired cats must be free of knots.
Ears and eyes must be clean.
Make sure your cat is flea-free!
STEP 5: Arrive on time for the show, prepared
Make sure you know where the show is and when to be there.
Make sure you know what to bring along for the day. Essentials include:
exhibition cage
bedding
cat litter tray with litter and a poop scoop
water bowl, food bowl and some food
grooming kit.
Tip: don't feed your cat the early morning of the show.
They usually want to use the litter box soon after breakfast
Early feeding may land you up with cats needing to use the litter box in the car!
STEP 6: Be with your cat for the day
Make sure that you organize your day to be at the show for the duration of the show.
Owners must take their cats to the judges' tables when requested to do so.
If you are not available, you will miss out on the judging.
Keep your litter tray clean.
Bring a litter scoop and plastic bags.
Make sure your cat has water.
Feed your cat a little after the first judging.
STEP 7: Show End
Put your cat in his carrier.
Please assist the hosting cat club with breaking down of the show hall.
Make sure you take all your belongings home.